Featured Item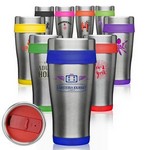 16 Oz. Insulated Stainless Steel Travel ...
Our BPA Free 16 Oz. personalized stainless steel travel mugs are exceptional promotional products available in a number of color accents. hese feature stainless steel silver outer walls and insulated ...
$3.53 - $8.18
Welcome!
We've recently moved!
Check out our new location at 935 E. Winding Creek Dr. #100 in Eagle, Idaho 83616

Welcome to AdGEAR Promotions, Inc. and thank you for visiting our site!


Our company provides a full spectrum of promotional products to enhance your company's competitive presence in the marketplace, promote your brand image and increase your exposure to the public.


One of the smartest ways to invest your marketing dollars is to purchase custom imprinted merchandise. Visit our online catalog of over 500,000 promotional items to find creative, functional products that will leave long-lasting impressions on your existing clients as well as on your potential clients. The catalog is accessible simply by clicking on the "search" button. A picture accompanies each item along with the estimated cost. You may also contact us directly to discuss your individual promotional needs.


Whether you're looking for something specific or need help to come up with the perfect items for your marketing needs, AdGEAR Promotions, Inc. is the company to provide you with innovative promotional solutions.


We work hard to ensure your total satisfaction. We are very competitive and will do our best to provide you with the best quality at the lowest price. Give us a call today. We look forward to building a long-lasting relationship with you.
Signature Showrooms